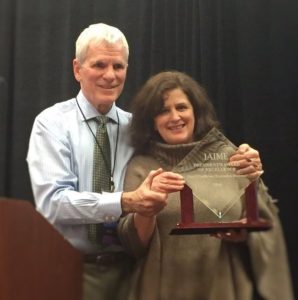 Sue O'Sullivan, President and Co-Founder of Veritas Meeting Solutions was awarded the Presidents Award of Excellence at the 2017 International Academy of Independent Medical Evaluators (IAIME) Annual Scientific Session & Business Meeting.  Presented by Dr. Lee Ensalada, the award was presented in acknowledgement of IAIME's financial success within the first year of turning administrative support over to Veritas Meeting Solutions.  The proficiency and expertise of O'Sullivan and her team resulted in the successful growth of IAIME, thus meriting her this prestigious award.
With over 600 members, IAIME is an international, professional membership organization and an industry leader in the development of educational courses and products that focus on appropriate methods for the evaluation and treatment of impairment and disabilities.
Veritas Meeting Solutions offers proven expertise in medical association management and CME conference/event coordination.  With over 75 years of collective expertise and successful collaboration, Veritas is quickly becoming an industry leader in the management of medical associations.  The Veritas team demonstrations proficiency in all facets of Association Management and Conference Coordination.